CATIA No Magic provides standard-based modeling solutions for analyzing, designing, simulating your systems of systems.
Windows
Browse to the WSEIT Software website located at: https://software.wse.jhu.edu/
Download CATIA No Magic Windows
This will start a download of the Windows installer. License info will also be sent to your @jhu.edu email address automatically
Right click on the downloaded .ZIP file and select Extract All. Leave all other defaults and press Extract
A folder will be created: nomagicwin with the .exe installer. Double click on the .exe to begin the install. Screen will look similar to the following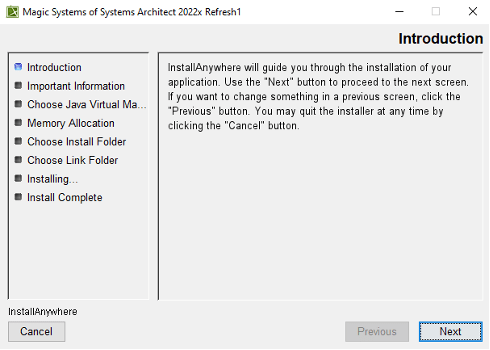 Please continue through the installer using ALL default options
Once the installation is complete you may launch the program immediately:

While the software is starting, it will ask for the FLEXNet License Server Info. Please use the following. NOTE: You must be on-campus or connected via Pulse VPN:

Server Name: wse-superflex.win.ad.jhu.edu
Port: 1101
Automatically login each time is started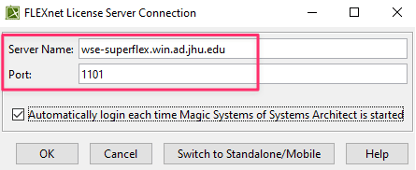 On the next screen (Select Edition/Plugin), please leave all settings default unless checking out a license for offline use: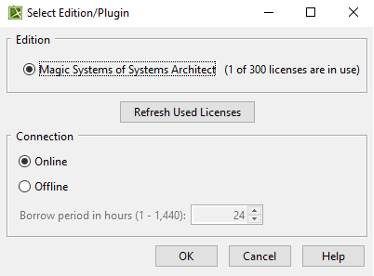 Magic Systems of Systems Architect 2022x will then launch/open to the welcome screen.
Macintosh
Browse to the WSEIT Software website located at: https://software.wse.jhu.edu/
Download CATIA No Magic Mac
This will start a download of the Mac OSX installer. License info will also be sent to your @jhu.edu email address automatically
Double click on the downloaded .ZIP file. This will use OSX's built in Archive Utility and immediately extra a .DMG (Disk Image) file to your current directory.
Double click on the .DMG file
Drag the left folder "Magic Systems of Systems Architect" to the Applications folder
Double click on the Applications folder. Browse to Magic Systems of Systems Architect folder and double click to open.
You can now go ahead and Launch the program by double clicking on Magic Systems of Systems Architect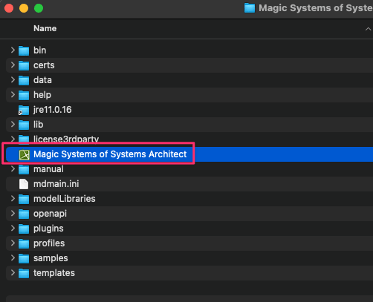 The FLEXNet license information screen should now be displayed. Please enter the following and hit OK.

Server Name: wse-superflex.win.ad.jhu.edu
Port: 1101
Automatically login each time is started

On the next screen (Select Edition/Plugin), please leave all settings default unless checking out a license for offline use: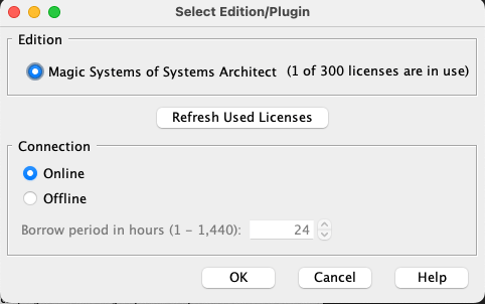 Hit OK
NOTE: If you receive the following error message: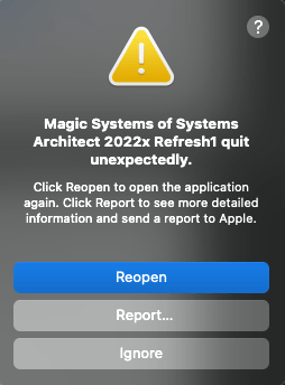 Hit Ignore. Open Finder>Applications>Magic Systems of Systems Architect>bin>RIGHT click "msosa">Go back to Step 9
The program should now launch as normally