List of Rooms and Their Capabilities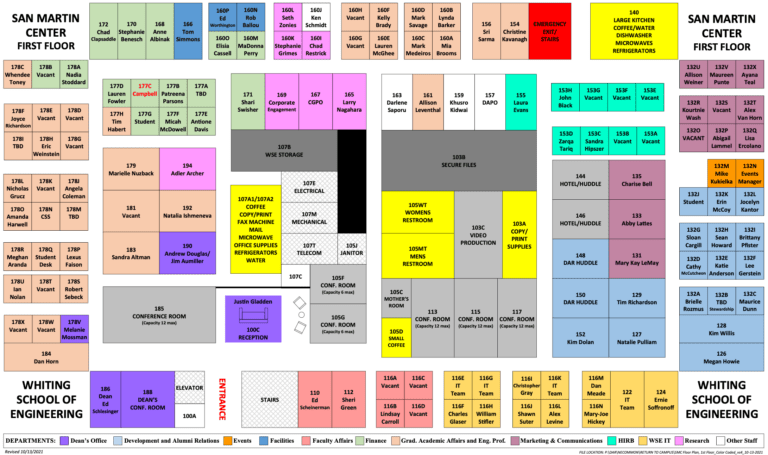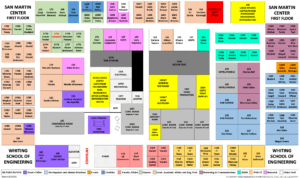 | Reservable Room | Capactiy | AV Capabilities | Contact |
| --- | --- | --- | --- |
| SMC 105F | 6 seated | Zoom Room with 65″ display and whiteboard | Deana Santoni |
| SMC 105G | 6 seated | Zoom Room with 65″ display and whiteboard | Deana Santoni |
| SMC 113 | 10 seated at table, five seated around perimeter | Zoom Room with two 70″ displays and whiteboard | Deana Santoni |
| SMC 115 / 117 | 24 (Sliding wall can be removed to make this one large space. After use, the room should be returned to original layout.) | Zoom Room with two 85″ displays, one 70″ display, and whiteboard AND Zoom Room with 85″ display and whiteboard | Deana Santoni |
| SMC 146 | Five-seat huddle conference room | Zoom Room with 65″ display and whiteboard | Reserve Online |
| DAR Huddle SMC 150 | Five-seat huddle conference room reserved for use by WSE DAR | Zoom Room with 65″ display and whiteboard | Cathy McCutcheon |
| SMC 181 | 6 seated | Zoom Room with 65″ display | Reserve Online |
| SMC 185 | 12 seated at table | Zoom Room with two 70″ displays and whiteboard | Deana Santoni |
How to Reserve a Space
Spaces should be reserved through the contact link above. This will usually be an admin who can help with the reservation and help to resolve reservation conflicts. Conference rooms may be booked up to six months in advance.
The Dean's conference room (SMC 188) is not open for reservations.
Where to Get Help
Conference rooms are self-supporting. Please be a good colleague and leave things clean and in good order!
Be respectful and start and end on time.
If you will be using conference room technology, plan ahead and practice before your meeting.
If something is not working correctly please report it to the space's contact and to wsehelp@jhu.edu as appropriate.