On this page, we describe how to access a secondary email account (usually a shared mailbox). NOTE: this is different than an email alias.  An alias is a second address for a single mailbox.  Aliases are maintained on the MyJH site. What is described here is adding a secondary mailbox that will hold mail separately from your primary email address.  These additional mailboxes need to be requested from us.
We'll cover two approaches.  First, for Windows Outlook users, and second, for people who don't use Outlook and would rather use the web client for access.  People on other clients can probably extrapolate what to do from the instructions on this page, but if you have questions please ask.
Outlook for Windows
Shown here are screenshots for Outlook 2013.  Outlook 2010 and 2016 are substantially the same.
VERY IMPORTANT: Before doing anything, log out of Windows and then log back in. This will reload the permissions you've been granted on the network so that your computer will know it has the right to add the mailbox.
Click File to bring up the settings pane:
Click the button to add an account.

Enter the information for the mailbox you want to add.  Leave the password field blank.  You'll enter in a password in a later step.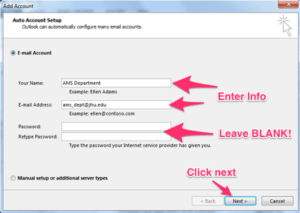 After clicking next you should see that the mail client was able to find the mailbox.  If that didn't work, go back and check your typing.  If it still doesn't work, contact us and we'll figure it out.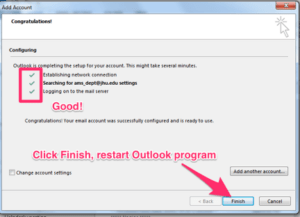 You'll be prompted to restart Outlook.  After you restart you'll need to enter in the password information for YOUR OWN JHED ACCOUNT.  You don't need the password for your mailbox's account, just your own.  (This also means that when your JHED password resets you will be prompted again to enter your password for each account in Outlook — your own account, plus any extra mailboxes.)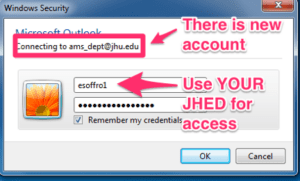 After entering your JHED username and password, you should see the new mailbox in your client.  These mailboxes are fully capable — they can have their own set of mailbox rules to do useful things with incoming messages, like redirect them on to a set of people, or to send back an acknowledgement that a message was received to the mailbox.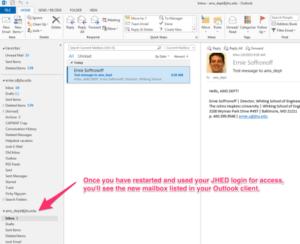 Webmail
Webmail can be accessed through my.jhu.edu or directly at mobile.johnshopkins.edu.  Using the webmail interface is convenient if you need to add rules to a mailbox but don't need to be constantly accessing it to check for new messages.
After logging into webmail, click on your name to open a drop-down menu.  In that menu is an option to open another mailbox.

A dialog box will pop up that asks you to type in the name of the mailbox you want to open, and it has a handy search function to help with data entry.  Pick the mailbox you want to open, and you will be taken straight into that mailbox.