Some Tips for Effective Use of OneDrive
Tips:
When installing OneDrive for Mac, don't forget to turn on Files on Demand and Finder integration. Files on Demand is configured in the OneDrive client's Preferences Pane.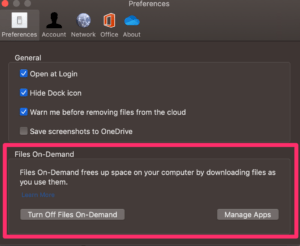 For Finder integration see System Preferences -> Extensions, then make sure OneDrive is enabled in the Finder.
Getting a lot of files to OneDrive
In OneDrive, the desktop sync client is by far the fastest way to upload a lot of files — Windows or Mac.  The web interface is convenient and generally very capable, but for a lot of data is slow and has the problem that it can't be restarted in the middle of a transfer.  Using the desktop client the throughput is higher, but more importantly it's a synchronization that can be paused or stopped and then be restarted later on.  You'll know everything was transferred, or know if there was a problem where the problem was.