DO NOT LOSE DATA: BE CAREFUL, READ THIS!
In most clients, unconfiguring old settings (sometimes called a profile) ALSO DELETES THE DATA ASSOCIATED WITH THAT SETTING.  That can mean old saved email, address books, etc.  Be careful if you have local folders or have used POP for fetching mail.  This could be the only copy of that information, so if you are at all unsure about changing these settings please contact us at wsehelp@jhu.edu.
If you're sure you want to risk it, instructions are available for how to connect your clients to the IT@JH Exchange mail system.  These instructions are for faculty and staff accounts on the Exchange system; students using Office 365 will need to refer to the documentation here.
For Outlook for Windows Clients:
If you are using Microsoft Outlook, go to "File" at the top menu: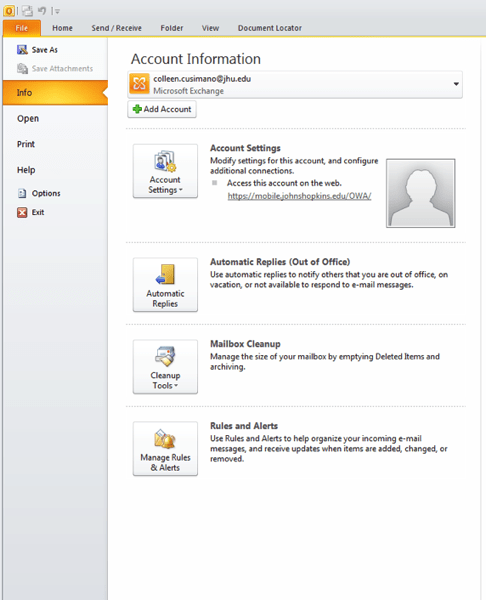 Select "Account Settings", "Add New" (This will keep your existing JHEM folders in place and add the connection to your current email server.):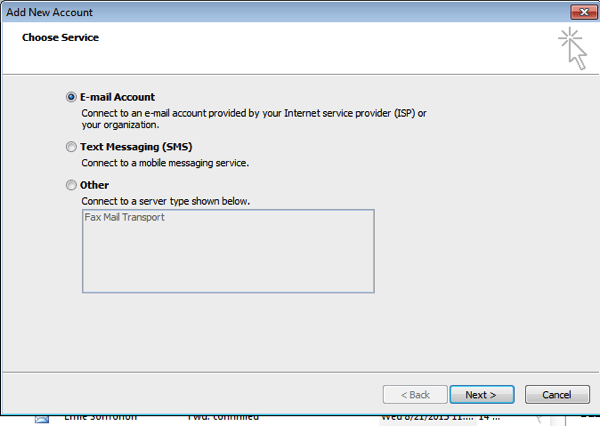 Fill in your name, email address and JHED password, and hit the "Next" button: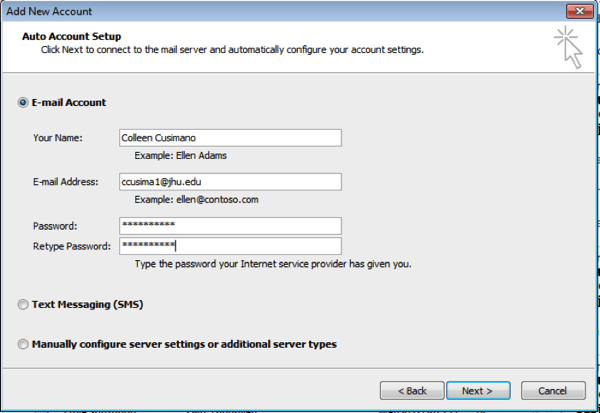 Outlook should seek out the Exchange server and create the mail connection. Once connected, it may take a few minutes for all of your existing mail to load into Outlook.
For Outlook for Macintosh Clients:
Outlook 2011 for Macintosh from Office 2011 is NOT suggested.  It's unreliable and slow.
Outlook 2016 works well for many users.  Here's how to configure.
Pick the Exchange server option when adding your account.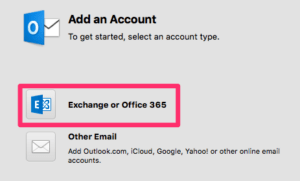 In the email address field put the alias you want to use as your return address.  Aliases are configured in MyJH.  You should be able to have your machine configure automatically if you are on the Hopkins network, directly or via VPN.  For the username, put in WIN\yourJHED, where yourJHED would be the username you log in to campus services like wifi or MyJH.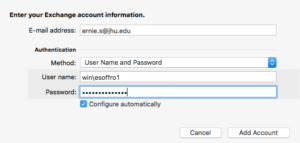 For MacOS Mail.app clients on OS X 10.8 and newer:
For versions of MacOS 10.8 and newer you will get the most reliable connections using the Exchange protocol.  IMAP and SMTP are supported, but you will have a more reliable connection with faster mail delivery if you use the Exchange protocol.
Versions of MacOS 10.7 and older are not suggested for use.  If you NEED to keep a version of MacOS that old, use the IMAP settings documented below.
In 10.8: Go to "System Preferences", "Mail Contacts and Calendars", select "Add Account" and "Microsoft Exchange."
In 10.9 and newer: Go to "System Preferences," "Internet Accounts," and click on "Exchange."
In the "account information" page, complete your name, description and email address. The next section should auto-fill the server information, you will need to complete your username and password (JHED):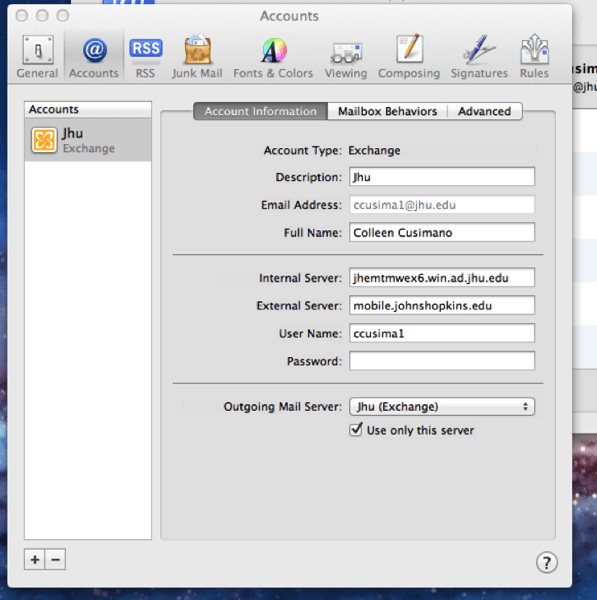 NOTE: For those of you who prefer to use an email alias as your return address this can be done but requires an extra step.  When you enter your mail address and it fails to auto configure, hold down the OPTION key and hit the Continue button.  Then you can manually add the server settings and your mail alias will be used for the return address.
Mobile Devices using Exchange Protocols:
Most clients, when inside the Hopkins network, will auto detect their settings when you start to configure an Exchange connection.  If you need to enter a server for the connection, enter mobile.johnshopkins.edu.
When configuring, you will want to remember the difference between your email address and your username.  Your email address would be your preferred alias that you want as your return email address.  Your username or account would be your JHED.  If it isn't working, you might need to prefix your JHED with WIN\, so you'd get something like win\esoffro1.
IMAP and SMTP for generic connections:
Note SMTP access at Hopkins needs approval before it can be used, and if you are doing this to connect an external mail provider (as opposed to an IMAP client) YOU MUST ATTEST THAT YOU NEVER HANDLE ANY SENSITIVE STUDENT OR HEALTHCARE INFORMATION.  Whiting School of Engineering Faculty and Staff: If your device needs SMTP to send mail, please contact us at wsehelp@jhu.edu and we will get IT@JH to give you access.  If you are NOT Whiting School of Engineering please contact your local IT support staff for access.  Once granted, access to SMTP will be maintained as long as a successful connection is made to the SMTP server every six months.
Note: If you're requesting SMTP access so you can use an external mail system (like Gmail) to send @jhu addressed email, this already questionable idea is becoming unworkable.  This technique has been abused by spammers and phishers to such a degree that many mail systems (including JHU, in some cases) will detect that your message didn't originate entirely within the JHU infrastructure and will reject the message or tag it as suspicious.  There's not really any way to configure around this; it's the state of the internet at this time.
Protocol
Server
Port
SSL?

IMAP

mobileimap.johnshopkins.edu

993

Yes - SSL/TLS

SMTP

smtp.johnshopkins.edu (BUT SEE NOTE ABOVE -- ENGINEERING SCHOOL ONLY send email to 
wsehelp@jhu.edu so we can get you access)

587

Yes - StartTLS